About Us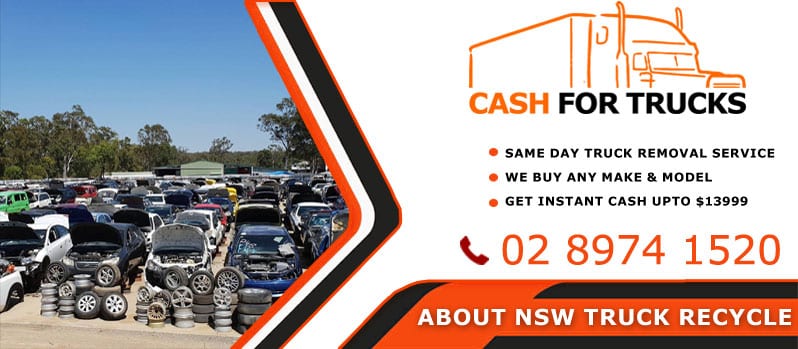 With an increase in the number of vehicles especially trucks on the road, it was imperative to have a service provider who will take care of all the unwanted trucks. We at Truck recyclers Sydney are into buying all types of trucks and then recycling them for further use. So, if you know an unwanted truck or own a truck that you no longer want, give us a call. And we will take it off your hand without any delay in exchange for the highest payment in cash.
Truck recycling
We have been in the business of truck recycling for many years. And we understand the business inside and out. Customer satisfaction is what can make or break a business. And thus, all our processes and policies are designed keeping in mind the need and the convenience of the customer. Apart from the best service, we also manage to reduce the turnover time by constantly upgrading our skills and buying new tools. All our staff undergoes regular training to ensure that they are aware of the latest skills, rules, and regulations, and any other legal requirement. Thus, when you contact us, you can receive appropriate help with the latest and correct information. Book an appointment with us today, to experience hassle-free truck removals.
Why choose us
With so many truck recyclers, it becomes difficult to know which one to approach and which one to go with. Well, each service provider has their own way of working and knowing about them can help you decide whether to engage their services or not. Here some key features that set us apart from the others in the industry.
Expertise with experience – Expertise and experience go hand in hand. We have the best of both to offer you. Our skilled staff has the expertise to handle all types of trucks without any problem. And similarly, our experience in the industry prepares us to deal with any unforeseen problem and allows us to come up out of box ideas to solve it.
Free Services – Today when everything is expensive, we offer varied value-added services free of cost. The main ones are offering free quotes, completing the legal paperwork at no cost and arranging for truck removal free of cost. These services not only save time and money for you but also makes the whole process hassle-free.
Easy Process – Our process is very simple. And thus, it not only ensures quick completion of the deal but also makes the entire experience a pleasant one.
Instant Cash Payment – We make payments in cash. Thus, when we come to remove the car, we also make on the spot payment and that too in cash.
We accept all trucks – We do not differentiate between the trucks. We accept trucks of all makes, model, age, and condition.
Choose us and Get the Top cash
So, when you are ready to let go of your truck, contact us. And be ready to earn cash up to $13999. We are not only the best service provider but are also the highest payer in the market.