Sell My Truck Sydney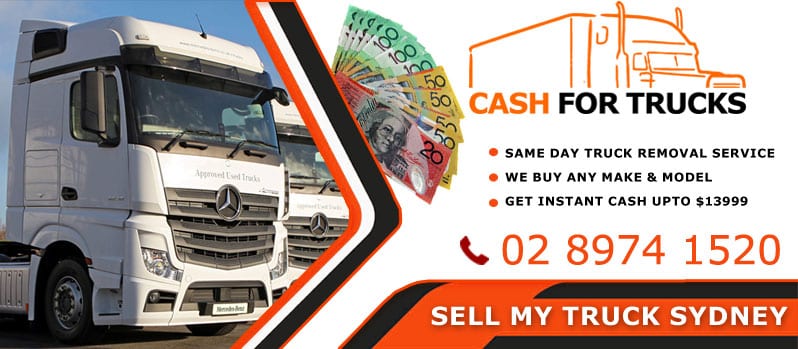 Buying your first truck is an emotional moment. And so is letting it go at the end of its life cycle. There are many reasons why you should get rid of your truck. Old and non-functional, accidental, damaged, totaled, or because it occupies too much of place. Whatever your reasons, we at
NSW truck recyclers
are ready to buy it from you at the top price.
Free Truck valuation Sydney
NSW truck recycler is an authorized truck recycler catering to the entire area of Sydney. We have the necessary tools, resources and expertise to handle trucks of any shape and size. Furthermore, the condition of the truck is not a deterrent to us. Thus, don't hesitate to call us if you want to sell my truck Sydney.
We buy all makes and models – Old truck buyers Sydney
The decision to sell your truck can be overwhelming and the last thing that you need is a stressful process to deal with. Working with us brings in many advantages. Here are some of the key differences between us and others. It will help you know that we indeed are the best in the industry. And that you can sell your truck to us without any doubts.
Authorized Recyclers – Being an authorized and licensed entity, we are allowed to deal with all types of trucks and other vehicles such as Van, UTEs, and 4×4. Also, when you contact us, you can be sure that all your dealings will be done legally.
Environmental Friendly process – One of our key strengths is that we recycle the vehicles that we buy. Also, all our processes are structured to protect the environment. Thus, we are not only a successful business but also an environmentally responsible unit.
Professional and friendly staff – Our staff is technically trained to handle your doubts and queries expertly. Their professionalism and friendly approach make dealing with them a pleasant experience.
We buy all kinds of trucks – As we recycle the trucks that we buy, we are not worried about the make, model or even the condition of the truck. We accept all kinds of trucks for recycling.
Free truck removal and paperwork – We all know that arranging for removal and paperwork is expensive work. Thus, we offer free truck removal and also take care of all the necessary paperwork.
Service the entire Sydney Area – Our resources let us handle the vehicles that are no wanted across the entire region of Sydney. So no matter where you are located in Sydney, you can contact us.
Quick Service and Payment – We are renowned for our fast service. We complete the deal within 24 hours after getting the relevant details of the truck. Similarly, we also don't delay while making the payment. We pay on the same day as that of truck removal.
Highest Payers in the market – We are the highest cash paying recyclers in the industry. When you agree to become our client you can be sure of getting the top cash for your truck.