Truck Removal Sydney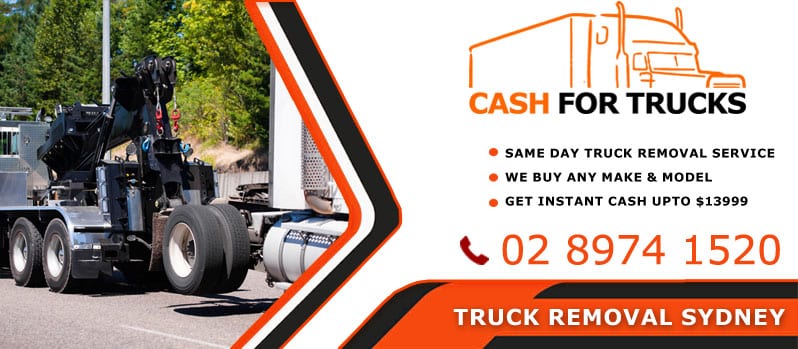 Unwanted trucks are dangerous for the neighborhood as well as the environment. The unattended truck if not taken care of leads to the leakage of harmful liquids from the engine and batteries. Also, it releases harmful chemicals that may cause injury to people as well as animals and plants. And it can become infested with insects and germs causing health hazards for everyone. And if you have such trucks in your garage, it is time for you to say good-bye to it. You may want to get rid of it privately. But, the cost of arranging everything and the time that you will end up spending on finding a genuine buyer and then chasing him for the payment is a big deterrent.
Cost Free Scrap Truck Removal for $CASH$
Instead, it is always better to get rid of the truck by professionals, if you no longer want it. And the best way to do it is by selling it to NSW truck recyclers. We are in the business of Truck removal in Sydney for many years. We buy all kinds of trucks in exchange for money. Also, we buy all types of trucks irrespective of its make, model, age or condition. So no matter what type of truck you want to get rid of, we are here for you.
NSW's Favorite Scrap Truck Buyer
For removing the truck all you need to do is contact us with the truck information. We need information on the brand, make, and year of manufacturing. We also need to know the mileage driven and a brief on its condition. NSW Truck Recycle also like to know the status of paperwork i.e is it registered, non-registered, etc that you have. All this information helps us determine the worth of your truck. And on the basis of the information provided, we take the matter further. Apart from trucks, we also deal with other vehicles such as vans, SUV, UTEs, 4x4s. So, whether you need us for truck removal or any other vehicle removal, you can contact us.
Damaged Truck Collection Sydney
Our process is very simple and so is the paperwork needed. This hastens the entire process and allows us to remove the truck from your premises without any delay. Removing trucks can be tricky. But, our team of specialized truck removers is the best in the business. They have the technical know-how along with years of experience in truck removal. This allows them to remove the truck even from the most challenging space. Furthermore, our modern tools allow us to handle the trucks irrespective of its condition. And thus avoid any damage or mishaps during the removal. So whether your truck is old, not working, damaged, totaled, junk, or a complete wreck. Trust us with its removal.
Why Remove Your Scrap Truck With NSW Truck Recycle?
So, when you are ready to remove the truck, come to us. We guarantee you that once you work with us, you will not go anywhere else. From instant quotes to free paperwork to immediate offer and instant cash payment at the top rate, we are the best in the industry. We service across the Sydney region.