Truck Wreckers Sydney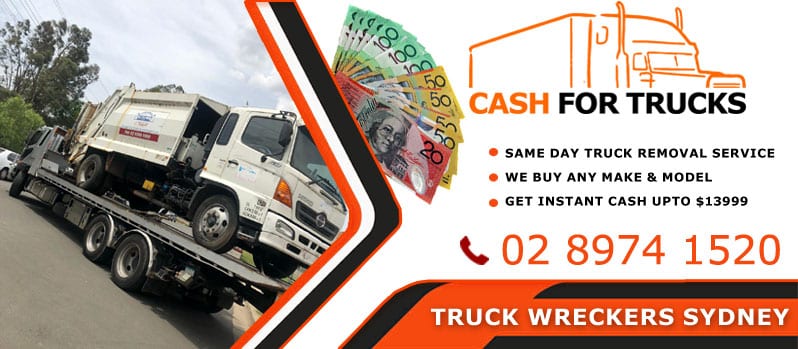 Know an unwanted truck? Or have you seen an unclaimed non-working truck lying on the road? Inform us and we will take care of it immediately. We at
NSW truck recyclers
, we are always on the lookout for trucks that nobody wants. We buy such trucks at a high price and take it to our wreck yard for further treatment.
As Top Truck Wrecker Sydney, we buy all types of trucks and pay the best possible cash for them. Here is what happens to trucks that we buy
Reuse, Recycle, Dispose
Reuse – When the truck comes to us, we prepare the car for dismantling by draining the liquid and safe disposal. Once all the liquid is drained, we dismantle the truck and remove the parts that are still in working condition. We recondition and refurbish these parts. And then we check them for their usability. Once they pass the quality check, we sell them as the superior second-hand truck parts at a reasonable price.
Recycle – As you might know, around 70% of the vehicle body consists of recyclable metal. And we are the experts in recycling the unwanted trucks. Thus, after we remove the working parts, we separate the recyclable items from the vehicle. These may include glass, metal, upholstery, and others. After we separate them, we crush the metal and forward it for recycling. And we send the glass and other recyclable items to their specialized recyclers. These recycled items are then used to manufacture new items including cars.
Disposal – After we remove everything that is usable and recyclable, what remains is the disposable items. To dispose of these parts we follow the government prescribed method to ensure no damage occurs to the environment. We follow all the safety practices.
Thus as truck wreckers, we take care of damaged, totaled, deteriorated and unwanted trucks. And we also take care of the environment by following eco-friendly processes in all areas of wrecking the trucks. We are firm believers in recycling.
Advantages of recycling
Recycling helps to keep the environment clean by reducing the scrap on landfills.
Recycling helps conserve natural resources. This is because, when we use the metal, glass and other items after recycling we reduce the need to get the material from natural resources. This also reduces the unnecessary use of machinery, electricity and other resources.
Careful disposal of liquids helps in reducing the harmful impacts on plants and animals and human health.
Recycling also ensures that no trucks remain untreated for long since it may lead to an infestation of a deadly infection.
Thus, if you own a truck that you no longer want, make a responsible decision and sell it to us. In a single visit, you will earn thousands of dollars,
get rid of your truck for top cash
and also contribute to the safekeeping of the environment. And all this can be done from the comfort of your home and with one call to us!