How It Works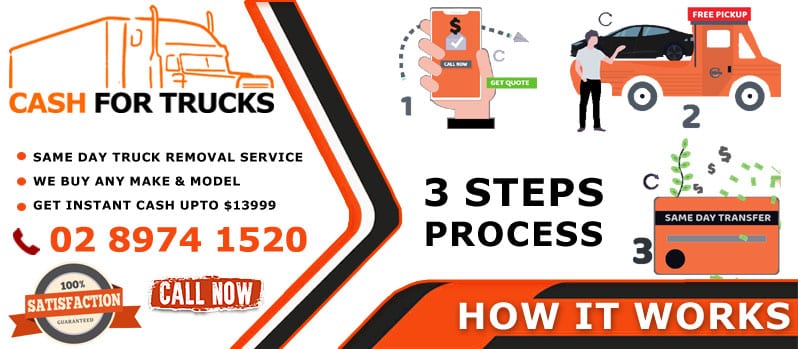 Vehicles of all shapes and sizes have become a necessity. And if you are into the transport business or a trade business then you will have many vehicles, especially the big ones. And they all need regular care and maintenance to counter the impact of wear and tear. But what happens when your truck spends more time in a garage than on the road? Or the repairing expenses keep on mounting without any end in the sight? Well, it is then time to bid farewell to your prized possession. Letting go of the truck is not an easy decision to make. And for the stress-free experience, it is better to hire professionals to take care of it for you. We are
NSW truck recyclers
and serve the entire region of Sydney with equal speed and professionalism. We are known to have the simplest process for
truck removal
. This makes the same-day deal closing possible. Also, it allows us to cater to a huge number of clients in a single day. And thus, our turnaround time is very less.
HOW NSW TRUCK RECYCLE WORKS?
Arranging for truck removal can be overwhelming and time-consuming. However, our three-step process allows you to get rid of your truck without any hassles.
Get Free Quote – Call us with the information about your truck. You can also fill up our online form or visit us with the details. Upon receiving the information, our team will give you an instant free quote. Once you accept the quote, we arrange for a truck inspection to determine the correct value and its condition. The inspection is scheduled at your convenience.
Get Cash – On the day of the inspection, our technical team will visit the site and evaluate the truck's worth. While deciding its value we consider the resale value, the ongoing rate for the metal and the worth of the usable parts if any. Thus, when we make the final offer, it is the best in the market. Once you accept the offer, we arrange for paperwork and truck removal. You can get cash for up to $13999 if you connect with us.
Truck removed – On a predetermined day, our team will come to remove your truck. Our staff is specialized in removing trucks of any shape, size, and condition. Thus, when they come for truck removal, you can rest easy knowing that no damage will occur to the vehicle or the premises. And on the day of car removal, we make the payment in cash. There are no hidden costs in our deals. And therefore, you get the same amount that you agreed for.
We are the best truck removal in the city. Also, we recycle the vehicles that we buy, thus there is no harmful effect on the environment. So, if you are looking to earn top cash, have a hassle-free car removal experience, and the ease of knowing that we will take care of all the formalities, wait no longer! Call us today!