Truck Wreckers Moorebank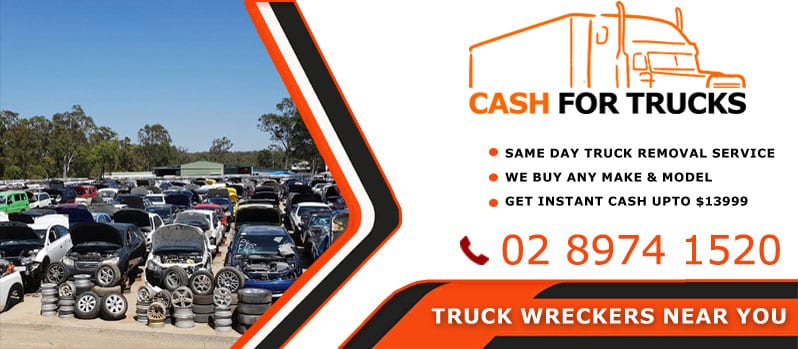 Are you looking for best
Truck Wreckers Moorebank NSW 2170, Australia
? Gone are the days when you had to part ways with your old and unwanted trucks with a heavy heart because either they have run their course or they have stopped functioning now. However, with cash for trucks Moorebank, you don't need to do any of that! We are your one-stop truck removal shop, which offers removal service Sydney-wide.
Cash For Used Heavy – Medium – Light Trucks, We Offer Removal Service Sydney Wide
Be it scrap, old, unwanted, damaged or even broken and rusted trucks, we are interested in buying them. What's more? Not only do we scrap and recycle trucks of all makes and models but we also offer you cash for used heavy, medium, and light trucks. So why wait! Get in touch with us today and get a quotation for recycling your old truck.
Why Sell Your Truck/Lorry To Cash for Used Trucks Moorebank
Unlike other processes and options, wherein you end up paying hefty prices to get your trucks towed and scrapped, truck recyclers NSW do things a bit differently. Here, we buy your old and unwanted truck and lorry and offer you top dollar for recycling it. Sell your used trucks Moorebank and we will recycle it in 100% eco-friendly manner.
We practice the highest standards when it comes to truck recycling and scrap removal. Furthermore, our team is very well-trained in carefully extracting used truck parts and accessories, and salvaging them for further use.
Scrap truck wreckers Moorebank will take care of your old and unwanted truck and make sure you get instant cash for truck recycling as well.
Our Truck Disposal Process
First and foremost, we test all the engines and give a thorough cleanup to all trucks that are brought into our salvage yard. Thereafter, we proceed to salvage used truck parts and accessories that are in good condition. It is very important to us that all our recycling and scrap removal process stay 100% environment-friendly. At truck recycling Moorebank, we believe in doing our bit towards the environment while helping you earn top dollar for recycling your truck. Our truck disposal process Moorebank is known for efficiently processing junk trucks, and salvaging parts and accessories at ease. All you have to do is get in touch with us over call, write a mail to us or fill our enquiry form online. Our team will contact you and fix an appointment at the earliest.
Our Fast and Professional Truck Removals
We are a licensed truck recycling company in NSW, known for our exemplary services, state-of-the-art facility and top-notch scrap truck removal processes. Our fast and professional truck removals service makes us one of the most sought after
truck wreckers
and recyclers in NSW.
Choose our efficient and eco-friendly used truck recycling services, and get instant cash for your truck in no time! Get in touch with us for a quote today.
Cash for Unwanted Trucks
If you are looking for cash for unwanted trucks, then you've come to the right place. We also take care of your old, broken, rusted, damaged, and unwanted trucks, and pay you top dollar for recycling it with us as well. So all you have to do is give us a call and ask for a quotation to recycle your used truck. Our team will then take care of everything, and you won't even have to lift a finger.