Five Genuine Reasons Why Your Next Truck Part Purchase Should Be From a Truck Wrecker
Posted On Feb 10 2020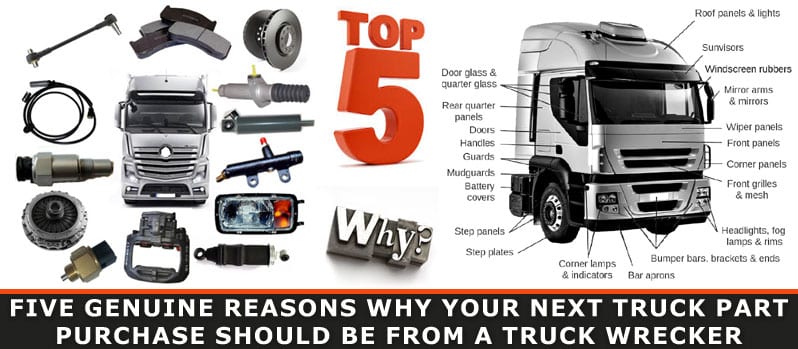 Every Truck, irrespective of its make and model will need a replacement part at least once in its lifetime. And though buying a new part seems logical, here are five genuine reasons why your next truck part buys should be from a
truck wrecker
.
Affordable prices – Most new parts are very expensive and may not fit into your budget. But, quality truck parts from the wreckers are available at 40 to 50 % less price than the original parts. Thus, you can find a part that you want without much trouble and within your budget.
Quality Products – Truck wreckers are very particular when it comes to the quality of the used truck parts. They source their parts from unwanted trucks or even auctions. And before they put them up for sale, the truck wreckers conduct a stringent quality check. Thus, you can be sure of buying superior quality parts without putting a hole in your pocket.
The convenience of buying – Many times, you have to approach many outlets to buy a part that you want. But, when you buy from a truck wrecker, the process is very easy and convenient. A truck wrecker deals in all types of trucks. This enables him to have access to parts of all makes and models of trucks including the latest models. Thus, all you have to do is contact them with your needs. And they will help you with many options for parts that fit your requirements and budget. And you can choose the one that fits your needs the best.
Product Assurance – When you approach a truck wrecker for your need, ask for available warranties on the parts. Most truck wreckers offer warranties on some parts if not on all parts. And when you buy a product with a warranty, you have the assurance of the product's quality. Also, since you are using a part that has already been used, you don't have to worry about its performance. All such parts are checked for their performance before entering the market.
Environment-friendly – Today, the environment needs saving. And buying a part from a truck wrecker is a step in the right direction. Manufacturing a new part causes lots of damage to the environment along with resource consumption. When you buy from wreckers, there is no more damage to the environment. Furthermore, it also reduces the burden on resources like natural resources. Also, the use of other resources like electricity and water also reduces. All this, when put together, has a great impact on keeping the environment clean.
Thus, next time, when you need a replacement part, contact reputable
truck recyclers
. They offer quality truck parts at affordable prices. This will not only be convenient for you but will also give you the chance to be responsible and conserve the environment. So, do your part and buy a truck part from the truck wreckers!